QuickBooks Integration
Office staff can use quickbooks integration to automatically copy new clients, invoices and payments to your quickbooks online account. Office staff may manually pair existing clients in Sweep&Go and QuickBooks online. At the moment, client refunds in Sweep&Go will have to be recreated manually in QuickBooks.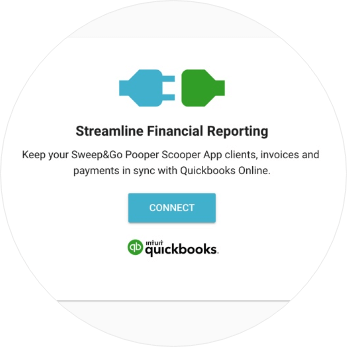 Connect to QuickBooks
Automate financial reporting.

Create new or connect to existing QuickBooks account.

Copy new clients to QuickBooks.

Copy new invoices to QuickBooks.

Copy new payments to QuickBooks.
QuickBooks Sync Management
Review financial data in QuickBooks Online.

Manually pair Sweep&Go and QuickBooks clients.

Review log of successful transactions.

Review log of any failed transactions.

Disconnect your QuickBooks sync at any time.