Client Management
Office staff uses client views to manage info about contact, location, billing, schedule, notes, dogs, yard, notification preferences and activity. Any client changes in the client portal that affect billing will require office staff approval.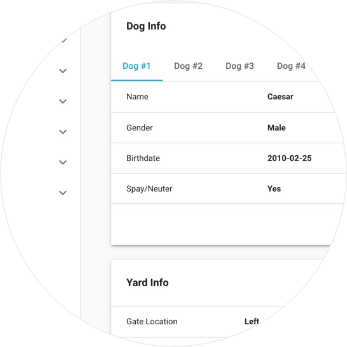 Address, Yard and Dog Info
Auto-cancel subscription if client moves outside service area.

Manage yard size, gate location and access code.

Notify field techs of unsafe dogs in some yards.

Add/remove dogs and easily update their information.

Auto-update per cleanup price when dog count changes.
Scheduling and Billing Info
Review initial notes, initial and recurring cleanup info.

View cleanup frequency, service days and latest cleanups.

View subscriptions, invoices, payments and credit cards.

Pause or cancel existing client subscription.

Modify service frequency for over the phone or email requests.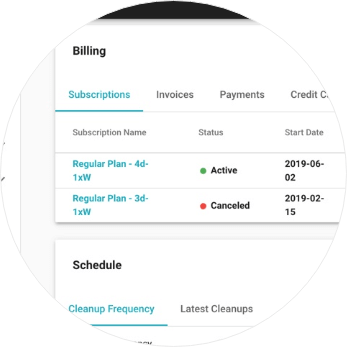 Cleanup Notifications
Send on the way notifications in just 2 clicks!
Auto-send off-schedule and completed cleanup notifications.
Notify clients via text, email or phone call.
Send notifications according to client preferences.
Update client notification preferences in the client portal.
Office and Field Tech Notes
Send private notes to office from field tech mobile app.

Let office staff share notes with field technicians.

Set start and end dates for notes to field techs.

Create multiple notes for field technicians.

Let field tech enter notes for each job.
Clients with Unassigned Locations
Assign start dates, field techs and service days.

Set recurring schedule and optional initial cleanup.

Reassign location following any billing or address change.

Specify cleanup date and field tech for one time cleanups.

Set estimated time for one time, initial and recurring cleanups.